SOS: Sustainable Outreach Shelter
Class Of Your Own

DEC Discover Award

10 hours
In the early hours of New Years Day, a storm rips through Anytown, causing damage to homes and forcing residents to evacuate to the 'Sustainable Outreach Shelter' – the SOS.

This morning's Daily Gazette reports the fascinating story of young civil engineers whose work to transform an old sports stadium into an emergency shelter is completed just in time!



Who is this DEC DISCOVER Award for?

This exciting course offers children and young people the opportunity to imagine themselves as Civil Engineers of the future.


It's a perfect bite-sized project to introduce young people to the exciting world of the Built Environment for the first time.

Suitable for learners up to 16 years of age.
Course overview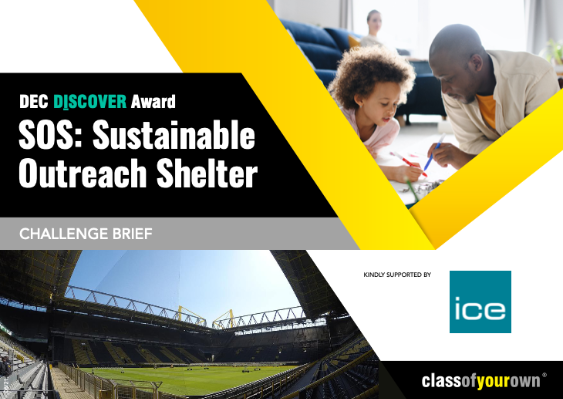 Learners create a newspaper report that describes how they transformed a sports stadium into an emergency home for a local community.
Learners will:
create a report of no more than 8 pages in a digital format
research how they will solve challenges focusing on the themes of water, transport, structures, energy, waste and the ground itself
include images and sketches to bring their ideas to life

RESOURCE PACK

Registering for the course gives you access to the Challenge Brief, Teacher and Parent/Carer Guidance, A 'DEC Discover Award' certificate on completion
Meet the TEAM
Class Of Your Own
COYO was established in 2009 with the mission of educating the future of construction. Over the years, our industry partners have enabled and adopted hundreds of schools to deliver built environment curriculum. Find out more about us and how you can help create more sustainable futures for our young people.